How virtual reality may help explore the role of fear in youth at risk for violence and crime
July 1, 2021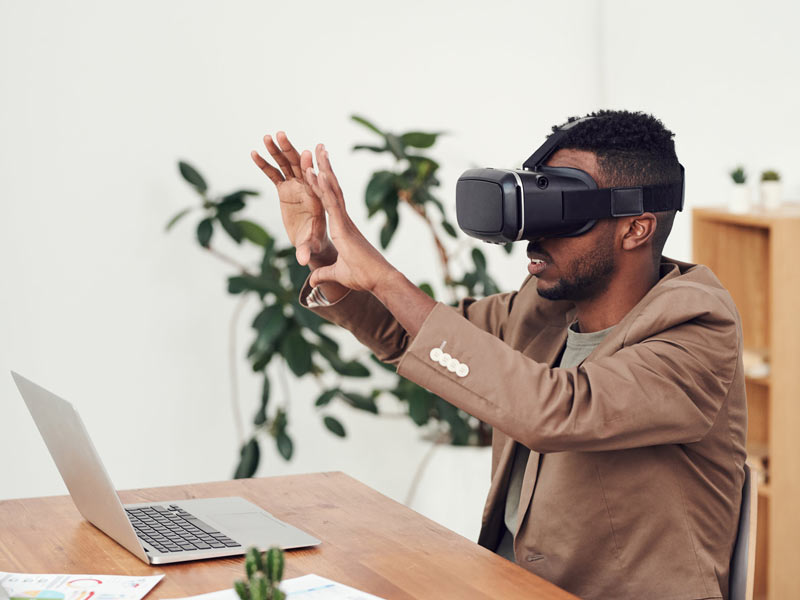 Conduct disorder — often characterized by aggression, theft, vandalism, violations of rules and lying — is one of the most prevalent and debilitating psychiatric disorders that emerges during childhood and adolescence.
There is a subgroup of those with conduct disorder who are more likely to engage in chronic violence and criminal behavior. These individuals display severe behavioral and personality symptoms, called callous-unemotional traits, that include callousness toward others, lack of empathy or guilt for their harmful behaviors, and shallow or diminished emotional expression.
Nicholas Thomson, Ph.D., an assistant professor in the Department of Surgery in the School of Medicine and the Department of Psychology in the College of Humanities and Sciences, has received a five-year $2.5 million grant from the National Institutes of Health to study conduct disorder. He aims to shed new light on the mechanisms that underlie callous-unemotional traits, thereby allowing for a more targeted approach in treating young people who exhibit them.
"Youth with conduct disorder and callous-unemotional traits are more likely to engage in chronic criminal behavior and develop mental health problems into adulthood," said Thomson, director of research and forensic psychologist for the Injury and Violence Prevention Program at VCU Health Trauma Center. "Therefore, understanding what contributes to the development and stability of these traits is beneficial for guiding treatment and prevention programs."
Thomson will lead a study, "Distinguishing Youth with Conduct Disorder with Callous-Unemotional Traits using Cardiovascular Psychophysiology During Virtual Reality Fear Induction: Testing for Sex Differences," that focuses on the roles of fear and fearlessness among youth with callous-unemotional traits.
It has long been theorized that because youth with callous-unemotional traits often do not feel fear, they also fail to recognize fear in others. That fear deficit may disrupt typical social development, increasing the stability and development of callous-unemotional traits.
"Because fearlessness is associated with punishment insensitivity, it may inhibit the socialization process, learning and the internalizing of guilt and empathy," Thomson said. "If youth with high levels of callous-unemotional traits do not feel fear, they are more likely to engage in risky behaviors (i.e., aggression) as they do not fear the consequences (i.e., being injured or punished) and are less concerned about the harm it causes to others."
While there is research that supports this theory, Thomson said, it mostly comes from survey data, past event recall or non-fear-inducing scenarios, such as pictures of fear expressions.
This new study aims to test the low-fear hypothesis by precisely defining and measuring fear.
Participants will use an immersive virtual reality system while researchers measure their biological responses.
"With support from the [VCU Wright Center for Clinical and Translational Research's Endowment Fund], we have developed a virtual reality fear assessment battery, which provides youth with an immersive but mild exposure to common phobias," Thomson said. "For example, the youth will get to experience a VR roller coaster. While experiencing the roller coaster, we record parasympathetic and sympathetic nervous system activity with facial [electromyography]. This will provide us with a more complete understanding of the relation between callous-unemotional traits and physiological threat sensitivity."
While the study explores serious questions around conduct disorder, it is actually a pretty fun and novel experience for participants, Thomson said.
Past research on conduct disorder has generally neglected the study of females, Thomson said, so it is unknown if the fearlessness theory is true for both boys and girls. The new study will seek to explore sex differences, if any.
Along with Thomson, the study will involve VCU researchers James Bjork, Ph.D., associate professor in the Department of Psychiatry; Roxann Roberson-Nay, Ph.D., associate professor at the Virginia Institute for Psychiatric and Behavioral Genetics; and Scott Vrana, Ph.D., professor in the Department of Psychology; as well as James Blair, Ph.D., director of the Center for Neurobehavioral Research in Children at Boys Town National Research Hospital; and Kostas Fanti, Ph.D., associate professor in the Department of Psychology at the University of Cyprus.
---
By Brian McNeill
University Public Affairs