Student team wins grant for Building Legacies Around Cultural Knowledge (B.L.A.C.K.) project
August 15, 2017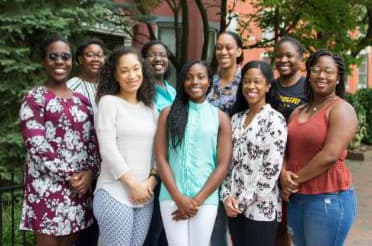 Melissa Avila and Jasmine Coleman, doctoral students of clinical psychology in the Clark Hill Institute for Positive Youth Development, are part of a student team in the VCU Department of Psychology who recently received a $2,500 grant from the VCU Division for Inclusive Excellence's Social Justice Fund for the project Building Legacies Around Cultural Knowledge (B.L.A.C.K.). The team is led by Keyona Allen, counseling psychology doctoral student, and is sponsored by Shawn Utsey, Ph.D., chair of African American Studies and professor of counseling psychology.
The team will facilitate community dialogue centered on experiences that impact the well-being of Richmond's black communities. Through weekly presentations and dialogue with individuals at a community center in the southside of the city, B.L.A.C.K. hopes to provide a vehicle to healing and positive development.
The VCU Student Social Justice Fund currently funds proposals that conceptualize solutions to social justice challenges facing the university, local, national or international communities. Winning proposals for the award demonstrated how innovative solutions will address and tackle structural, political, economic or social injustice through the lens of diversity, including race, age, ethnicity, gender, sexual orientation, gender identity, gender expression, religion, national origin, disability status, political affiliation, military status and/or socio-economic background.
Other team members from the Department of Psychology include Christina Barnett, Randl Dent, Ebony Lambert, Krystal Thomas, Mona Quarless, Stephanie Wilson, Amanda Parks and Eryn Delaney.