NIH awards a grant to study the impact of human-animal interaction on the development of children exposed to adverse family environments
October 10, 2018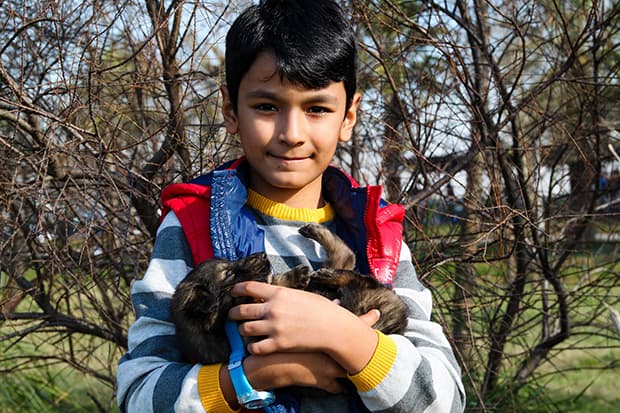 Nearly 75 percent of U.S. households with children report having at least one pet and emerging research shows that positive interactions with pets, such as caretaking behaviors, are associated with better physical, social and educational outcomes among children.
However, negative childhood interactions with pets — such as exposure to and perpetration of animal mistreatment — are linked with psychopathology in childhood and adulthood.
To better understand how child-pet interactions influence child health and well-being in the context of adverse family environments, Shelby E. McDonald, Ph.D., an assistant professor in the Virginia Commonwealth University School of Social Work [and affiliate in the Clark-Hill Institute for Positive Youth Development], has received a $427,067 grant from the Eunice Kennedy Shriver National Institute of Child Health and Human Development in the National Institutes of Health.
"The field of human-animal interaction is relatively new, and the majority of studies in this area have been correlational. Therefore, there is little knowledge of the mechanisms by which pets impact child development over time," McDonald said. "Given that pet ownership is ubiquitous in the U.S., it is important to learn how child-pet interactions influence children's psychosocial, neuropsychological and neurophysiological health so that we can better understand the interplay between risk and protective factors in children's lives, particularly in the face of childhood adversity."
"It is important to learn how child-pet interactions influence children's psychosocial, neuropsychological and neurophysiological health."
Recent theoretical work suggests that pets may benefit children's socio-emotional health by improving social regulation of emotion and enhancing cognitive control, said McDonald, who is also a research affiliate with the Center for Human-Animal Interaction in the VCU School of Medicine. These effects, she said, are hypothesized to be particularly pronounced among children who lack social networks and nurturing environments.
The two-year grant, "The Impact of Human-Animal Interaction on Adjustment of Children Exposed to Adverse Family Environments," aims to test that hypothesis, and to develop the Youth Checklist of Animal-Related Experiences, or CARE-Y, an instrument that will advance human-animal interactions research in this area.
"Through qualitative research with child and adult survivors of intimate partner violence, we have discovered that children's exposure to animal maltreatment is multifaceted and best represented by multiple dimensions of exposure," McDonald said. "The CARE-Y will advance the field of human-animal interactions research by providing an ecologically relevant measure grounded in the experiences of children that adequately captures the complexity of this construct."
Because animal maltreatment often overlaps with interpersonal, family and community violence, McDonald added, the CARE-Y could be a useful tool to identify youth at risk for other forms of childhood adversity and trauma in settings where children and families may not be comfortable answering questions about direct child victimization by family members.
"This tool could be used by social workers in a variety of contexts and by allied health professionals who encounter children and families at risk for, or currently experiencing, violence-related adversities," she said.
The study also will involve collecting pilot data for a larger longitudinal study that will test the mechanisms through which child-pet interactions influence health and well-being.
Along with McDonald, the grant involves co-investigators Sunny Shin, Ph.D., an associate professor in the School of Social Work, and Albert Farrell, Ph.D., a Commonwealth Professor of clinical psychology in the Department of Psychology in the College of Humanities and Sciences [and director of the Clark-Hill Institute for Positive Youth Development].
Greater Richmond SCAN (Stop Child Abuse Now), a local nonprofit organization dedicated to the prevention and treatment of child abuse and neglect, is a community partner on the grant. The organization will help recruit children and caregivers for the study.
The National Institute of Child Health and Human Development recently identified the implications of human-animal interactions in childhood as an important line of inquiry for developmental scientists.
There is increasing evidence, McDonald said, that exposure to animal mistreatment is associated with short- and long-term child health and development outcomes.
McDonald and collaborators have previously conducted research on child survivors of intimate partner violence that found exposure to animal maltreatment was a stronger predictor of children's internalizing (anxiety, depression) and externalizing (aggression) behaviors than exposure to maternal abuse. However, the team was not able to control for other co-occurring adverse childhood experiences.
"Although there is limited research on the topic, animal maltreatment, child maltreatment and community violence often overlap in households and communities," McDonald said. "This study will help us understand the degree of overlap between animal maltreatment and other [adverse childhood experiences], whether animal maltreatment continues to be a reliable predictor of maladjustment when other forms of adversity are accounted for, and the extent to which screening for animal maltreatment exposure can assist professionals in identifying children who are at risk for maladjustment."
Additionally, the study will test whether positive aspects of pet ownership, specifically, children's attachment to and engagement with pets, buffer the impact of adverse experiences and animal maltreatment exposure on child adjustment, she said.
The grant is McDonald's first NIH submission as a principal investigator.
"It's important to acknowledge that the success of this application reflects the exemplary support and mentorship I received from faculty in the VCU Clark-Hill Institute for Positive Youth Development," she said.
She was selected last year as one of the institute's inaugural cohort of faculty research fellows.
"I am incredibly grateful to have had the opportunity to be mentored by such a great group of grant-active faculty, especially my primary mentor and co-investigator, Dr. Albert Farrell," she said. "In addition, I'm very appreciative of the support I received from the Office of Research in the School of Social Work."